.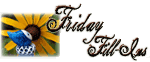 1. October
c'est le temps de ratisser les feuilles
.
2.
Les araignées me craignent ( « j'ai peur des araignées » ?)
scare me!
3. Leaves are falling all around, it's
les couleurs sont belles
.
4. My favorite horror movie is
je n'en pense pas un
because
Je n'aime pas des films d'épouvante, cependant j'aime les films à suspense comme « Le Sixième Sens »
5.
Temps libre, de bons amis, bonne cuisine, bon vin
= good memories.
6. It was a dark and stormy night
je dormais à poings fermés.
7. And as for the weekend, tonight I'm looking forward to
finir une mitaine
, tomorrow my plans include
faisant la grasse matinée
and Sunday, I want to
paresser
!
(1. it's time to rake leaves; 2. spiders; 3. the colors are beautiful; 4. i don't have one howveer i like suspense films like The Sixth Sense; 5. free time, good friends, good food and wine; 6. slept soundly; 7. finish a mitt, sleep in, veg)
Copyright © Smariek Knits 2005-2008. All full copyright rights are reserved by Smariek Knits.
.