.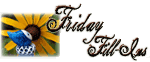 .
1. I believe whatever doesn't kill you
allows you to live longer.
2. If you're good at something,
share that knowledge with someone else
.
3. Why so
burpy?
4. Something is out there, it's
an insect or arachnid just waiting to attack me while I'm sleeping (I live in Bugville and I'm phobic).
5. If my life were a sitcom, it would be titled
Destination Unknown
.
6. Sitting on my back porch [
if you don't have one, use your imagination
] I see
overgrown grass, thriving weeds, an orange tree, a lemon tree, a peach tree
, lots of rose bushes.
7. And as for the weekend, tonight I'm looking forward to
Friday night pizza
, tomorrow my plans include
going to the library and doing laundry
and Sunday, I want to
veg a little (if Miss M allows)
!
.